Breaking Ground 808 Project
Breaking Ground 808 Project
Monday, October 3, 2022 7:30 AM - Friday, October 7, 2022 3:30 PM (HST)
Description
BREAKINGGROUND 808: Get involved in GCA's Workforce Development Program
The GCA Workforce Development Committee has been hard at work developing "BreakingGround 808," a program for up to 90 students from Kapolei, Pearl City, and Waipahu High School. Participants will learn about the construction industry through educational classroom sessions and participate in the planning, coordination, and construction of several hands-on projects on the Waipahu High School campus. Scheduled to run during the Department of Education's Fall Break, students from the three schools will be applying and interviewing for the opportunity to participate in the program.
We need your help to make this program a success! There are numerous ways GCA members can get involved, both at the company and individual level, or by making a monetary donation. We're looking for companies to help with the construction projects and volunteers to help with classroom activities and other tasks. Listed below are the various activities where help is needed, as well as the promotional benefits your company will receive for support of this worthwhile program.
October 3 - 7, 2022
7:30am – 3:30pm
Waipahu High School
ADOPT-A-PROJECT SPONSORS
Opportunity for four (4) General Contractors to oversee the different project areas.
Projects:
Sidewalk and Pre-Cast Bench Installation (Area 1, 2 or 3)
Picnic Benches
Contractors should supply:
Supervisors that are great at teaching and will be patient with the students
Sidewalk and Pre-Cast Bench Installation – minimum 5 supervisors per project
Picnic Benches – minimum 3 supervisors
All equipment, materials, and supplies necessary for the project with the following exceptions:
Pre-cast benches, concrete, pump & hose, and wire mesh will be generously donated
SITE PREP SPONSORS
Looking for 1 – 2 contractors to help prepare the projects in advance of the program.
Projects:
• Demolition – demo all existing benches (September 24)
• Earthwork – prepare the site (October 1)
MATERIAL SPONSORS
Seeking companies to donate the primary materials.

• Concrete: Hawaiian Cement and HC&D
• Concrete Pump & Wash-Out: American Standard
• Prefabricated Pre-Cast Benches: GPRM Prestress and Island Ready Mix
• Roll-off Dumpsters:
MONETARY DONATIONS
There are many supplies, tools and other items that are needed to make this program possible. If you cannot participate by adopting a project or providing some of the primary materials, you can still support this important workforce development program by providing a monetary donation. These donations will go toward the following:
PPE – hardhats, safety glasses, earplugs, gloves
T-shirts & hi-vis vests for the students
Small tools, buckets, etc., which will be donated to the participating schools after the program
Daily bus transportation for Kapolei and Pearl City High School students
Bento lunches for students, chaperones and volunteers each day
Refreshments for Student Certificate Presentation and Celebration on the last day
$3,000 - WORKFORCE DEVELOPMENT CHAMPION
$2,000 - WORKFORCE DEVELOPMENT ADVOCATE
$1,000 - WORKFORCE DEVELOPMENT SUPPORTER
We are offering the following promotional benefits to the companies that participate in BreakingGround 808 through one of the opportunities listed above: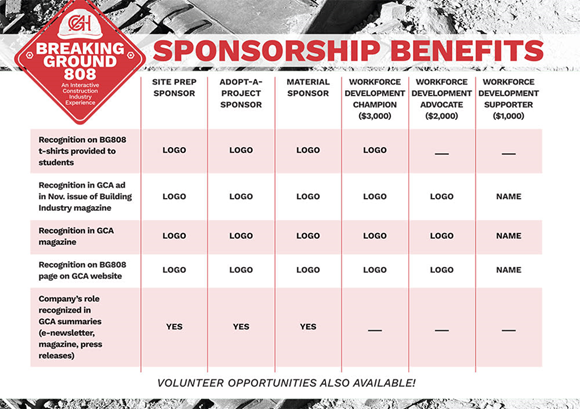 [ SPONSOR HERE ]
Sponsorship Commitment Deadline: August 24, 2022
If you would like to volunteer for this event, please click below.
ICYMI: Click here to view the informational webinar on the BreakingGround 808 program, which offers more details on the various projects and program needs.
For questions, please contact communications@gcahawaii.org.
Pricing
Donation Deadline: August 24, 2022
Waipahu High School

Monday, October 3, 2022 7:30 AM - Friday, October 7, 2022 3:30 PM (HST)