Virtual AGC BIM Education Program
Virtual AGC BIM Education Program
Monday, May 9, 2022 (12:00 PM - 5:00 PM) (HST)
Description
AGC's Building Information Modeling Education Program (BIM EP) 3rd Edition is designed to educate construction professionals at all experience levels in BIM concepts and processes. The highly interactive virtual program provides instruction via Zoom, and training to prepare construction industry professionals at all levels to take advantage of the benefits of BIM.
After participants complete all four courses in the program, they become eligible to sit for an exam to earn the Certificate of Management - Building Information Modeling (CM-BIM)
These four courses build on each other to combine the latest information on BIM processes and technologies, step-by-step procedures for integrating BIM into the project delivery process, real-life case studies of successful BIM implementation and the practical issues all parties need to understand when using BIM on a construction project.

These classes are offered virtually by AGC of America for Architects, Engineers, Contractors, Suppliers, Owners or others who are interested in earning their CM-BIM credential.
This program is offered by AGC of America beginning on Monday, May 9, 2022 until May 20, 2022.
Courses will be offered online via Zoom platform, webcam required for participation. (Fee includes textbook)
Register today – only 25 spots available!!
For a Promotional Rate, select the Hawaii Chapter: General Contractors Association of Hawaii in the drop-down list as the "referred by organization"
Unit 1 – An Introduction to Building Information Modeling (3rd Edition)
• Recognize the importance of BIM.
• Define common BIM terminology.
• Discuss how BIM can be used as a communication and collaboration tool.
• Explain the benefits of BIM.
• Explain the federated model process.
• Compare examples of successful BIM usage.
• Discuss issues associated with starting BIM.
• Create a company BIM assessment.
Unit 2 – BIM Technology
• Explain the phased structure of a BIM project.
• Describe the classes of BIM tools.
• List common BIM applications.
• Describe how the use of BIM tools needs to be planned and organized.
• Explain the need to embed tools into the process.
• Develop a process for selecting relevant BIM tools
Unit 3 – BIM Project Execution Planning
• Identify the key attributes of a successful team.
• Explain contract liability and model usage.
• Identify BIM delivery methods.
• Understand the meaning and usage of Level of Development (LOD).
• Explain the key components of a BIM Project Execution Plan.
• Understand and explain the benefits of a synchronized project workflow.
Unit 4 – BIM Adoption, Implementation, and ROI
• Define adoption, implementation and return on investment.
• Describe why BIM is a disruptive practice today.
• Identify reactive and proactive BIM outcomes.
• Evaluate and select process adoption options.
• Describe the roles and responsibilities of practitioners.
• Identify consistent factors influencing BIM ROI.
• Communicate the BIM process.
• Outline a process for BIM adoption and implementation.
Course Instructor:

Pablo Medina | CM-BIM/Lean, DBIA, LEED AP
Sr. Virtual Design + Construction Manager
AEC Consultant
AGC Instructor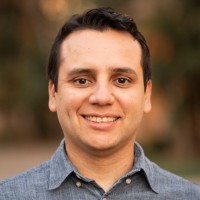 Pablo Medina has had the privilege of working for the largest general contractors in the United States including Mortenson, Turner, and currently at McCarthy where he manages all BIM implementation for pre-construction and operations for the San Diego Business Unit. He has implemented BIM on several Mega Projects (1+ Billion) during his time at Turner and McCarthy and has also implemented BIM at the field level for McCarthy's self-perform division. His roles as a superintendent, project engineering and BIM expertise have given him experience in a variety of departments, delivery methods and project phases including Business Development, Pre-construction Design Validation/Coordination, Construction Coordination, Design-Build, Design-Assist and Model-Based Estimating. Pablo also has a passion for teaching and sharing BIM and other construction technology practices. He is an active instructor for the AGCs BIM Education Program and Project Management Course. He is the co-founder and co-host of Shared Coordinates, a Spanish language podcast that aims to share knowledge of BIM and AEC construction technology practices.

Pricing
Cost for the program is $1,450.00 for members and $2,000.00 for non-members. Includes all course participant's manuals.

AGC reserves the right to cancel programs up to 10 days prior to start date if a minimum number of attendees is not met.
Questions:
Email -
education@agc.org
.
Cancellation Policy:
A full refund will be given to cancellations made 14 calendar days prior to the class kick off. After such time, no refunds will be given. Replacements are acceptable and must be submitted via email to rockkie.dunton@agc.org.
Virtual
1065 Ahua Street



Honolulu

,

HI

96819

United States



AGC WebED
To create your profile, please click here.
Sync your profile with your company's by searching in the Organization drop down.
Monday, May 9, 2022 (12:00 PM - 5:00 PM) (HST)
This program is offered by AGC of America beginning on Monday, May 9, 2022 until May 20, 2022. Class are held M-F each week from 12-5 pm.